Csilla Szabó
…following patterns and forms
that the mysterious phenomenon of light
inevitably draws…
Csilla Szabó, fine art photographer and analogue B&W printer, born in Budapest, lives and works in Berlin.
After studying photography in Budapest, she moved to Berlin where she became the apprentice of fine-arts photographer Jeff Cowen, a position she held for many years. While there, she was trained in the art of traditional silver black-and-white printing of large-format photographs on a masterful level, including numerous alternative processes.
She then became a professional printer; over the past years she has printed exhibitions for international artists such as Antanas Sutkus, Per Christian Brown, Arja Hyytiainen and Christina Glanz. She also conducts printing and portfolio workshops in her darkroom in Berlin, and she was a guest lecturer in the Neue Schule für Fotografie in Berlin.
Parallel to her commissioned printing works and teaching practices, she's been diligently creating her own photographic works of art. She has participated in numerous solo and group exhibitions, and her works can be found in different art collections, such as that of the Ritz Carlton Hotel Budapest and private collections in New York, Nashville, Paris, Hong-Kong, Berlin, and Budapest.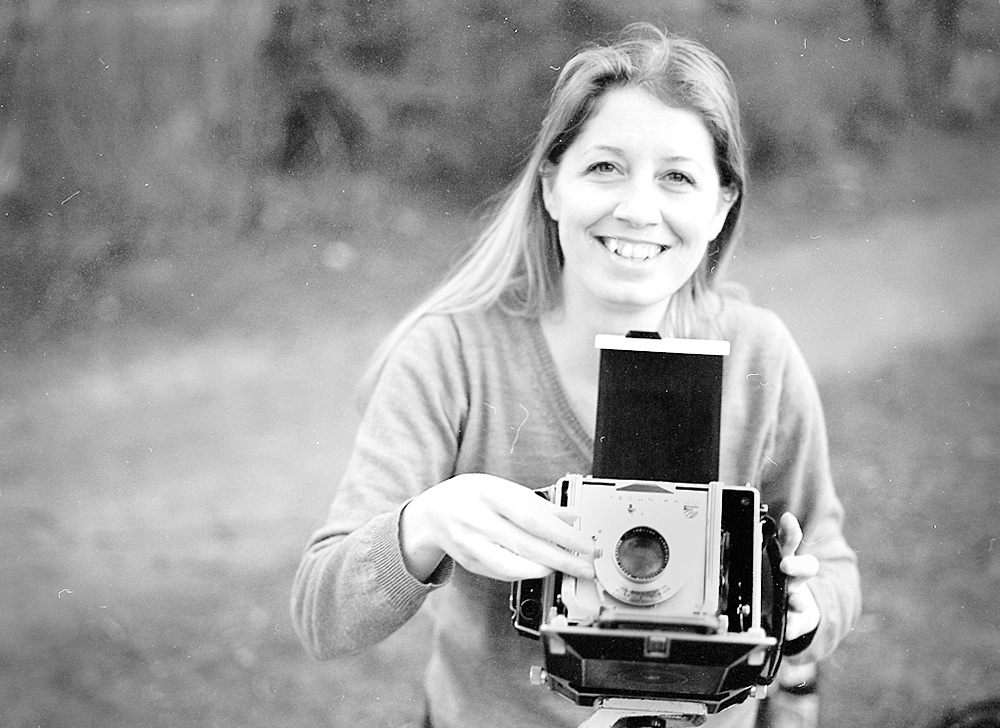 I work with analogue cameras and shoot black and white film. My attention has turned towards photographing abstract still lifes, or rather, I find myself taking pictures of light itself, using objects to capture the play of light and shadow and the visual rhythm between these two siblings, the sometimes faded border between them, their reflections, opacities. Play is essential to my practice. I am continually falling in love with shapes, forms, beautifully broken things.
My working method is essentially divided between working with my 35mm camera, and with subjects ready, staged by others or by chance outside; and work in the studio's controlled atmosphere with my 4×5" Linhof Technika, where I often spend hours arranging and rearranging the photographed objects until they reveal a certain reflection of my own eye.
I approach my subjects with an analytic attitude, later creating larger-than-life-sized images of tiny wonders in the darkroom. In this way I am able to showcase the minute details invisible to the naked eye, revealing a hidden world that speaks in the intuitive language of emotion, unlike its hardened opponent, the intellect. My intention is to slow down the viewer, to get them lost in the details, by following patterns and forms that the mysterious phenomenon of light inevitably draws.
Artistic achivements:
2022 Gold medal in Fine Art category with "A pond of unconscious" at Moscow Foto Award
2022 Exhibition (group show) 'Unguarded moments' in Hofgrün Galerie Berlin, Germany
2022 Publication "Demonography" Shots Magazine USA
2022 Nominee with "A pond of unconscious" at "FAPA Award" Open Theme
2022 Finalist with the "A pond of unconscious" at "Gomma Grant" B&W Section
2021 Exhibition (solo show) "Getting to know Adel" Sonntagsklub Berlin, Germany
2021 Exhibition (dual show) "Fish & Clouds" Lokal Art and Project Space Berlin, Germany
2021 Publication "Jeff Cowen portrait" Catalogue of Jeff Cowen Moscow, Russia
2020 Exhibition (group show) "Wiederwachen" Open Art Fair Berlin, Germany
2020 Exhibition (group show) 'MELT!' Producers' Gallery Berlin, Germany
2019 Publication 'Smokescreen' Album cover of The Pool band Copenhagen, Denmark
2018 Publication 'Slow life' Art Photography Magazine Budapest, Hungary
2018 Publication 'Haze 6' The Hand Magazine Kansas, USA
2018 Exhibition (solo show) 'Adel' Bakelit Multiart Center Budapest, Hungary
2018 Exhibition (solo show) 'Demonography' Prenzlauerberg Wasserspeicher Berlin, Germany
2018 Catalogue 'Photo Murals' 2008-2018 works Berlin, Germany
2018 Exhibition (group show) 'Fragments' Tbilisi Art Fair Tbilisi, Georgia
2018 Publication 'In a foreign body' Marie Claire Hungary Budapest, Hungary
2018 Publication 'Csilla Szabo's art work' Aiolos Magazine Stockholm, Sweden
2018 3 photo murals became part of the collection of Marriott Hotel Nasville Nasville, USA
2016 Exhibition (solo show) 'Photographic works' StilSpiel Designraum Berlin, Germany
2016 Publication 'Studio visit' Artig Gallery Magazine Barcelona, Spain
2016 8 photo murals become part of the collection of Ritz Carlton Hotel Budapest Budapest, Hungary
2016 Publication 'Csilla Szabó' Brennpunkt Magazin 2016/II Berlin, Germany
2015 Exhibition (group show) 'Light and shadow' PH21 Gallery Budapest, Hungary
2015 Catalogue 'Symmetry' Photographic project Berlin, Germany
2015 Exhibition (group show) 'Oase' Povvera Projektraum Berlin, Germany