Demonography
— in memory of Marcus —
An exhibition of a series of mural-size photographic prints installed with music composed specifically for each individual photograph, in the Small Water Reservoir in Prenzlauerberg, Berlin, in the autumn of 2018.
A collaboration project with Marcus Fjellström Swedish composer, I finished it to tribute his wonderful work and our friendship after he sadly passed away.
In an installation setup, the demons were mounted on the walls of the exhibition space, while the individual sound pieces are played consecutively in a loop over loudspeakers installed behind each photograph.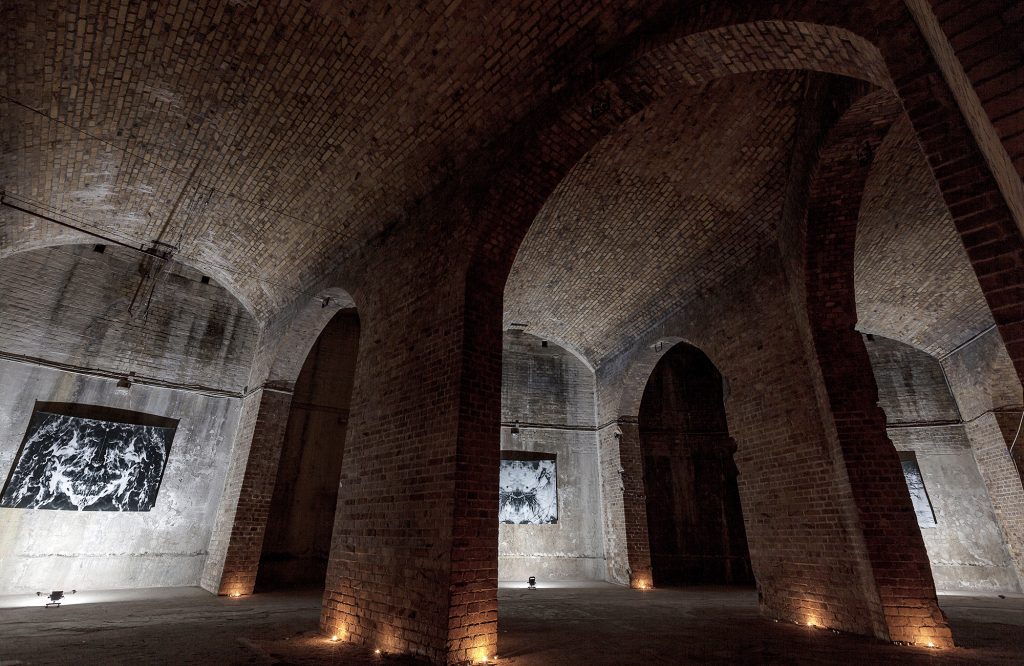 The former Wasserspeicher in Prenzlauer Berg is an extraordinary structure, dazzling audiences with its underground arcades and ageing red brick textures. Over the years, this unique place has been hosting various performances and installations of sound, light and video.
The excellent acoustics of the space, coupled with its unique underground scenery of a circular structure, makes it a perfect venue for this particular show. As the spectator stands at the centre of the space, surrounded by the imagery and the multi-directional sound, a fully immersive atmosphere is created which in turn helps to bring the demons to life.
You can see the photographs and read the project description here.
This exhibition was crowdfunded and self-organized, it could not have happened without the generous help of friends, friends of friends, and contributions via crowdfunding and donations.
Special thanks to:
Production manager: Royati Ami Sound: Dave Senan Installation and event managing: Réka Dávid, Gyula Sági, Lucio Fernandez, Bálint Meggyesi, Louis Fernandez, Stew Bamrah Teaser video: Johan Planefeldt Event photographer: Louis Fernandez Drone shots: Bálint Meggyesi Liaison of location: Barbara Fuchs
Contributors: Andy Greenaway, Maxine Chong, James Ginzburg, Mark Wiggins, Sören Hermansson, Simone Richter, Gergely Péter Barna, Anton Grandert, Trinka Endaya, Laurent Verrier, Denise Langenhan, Melati Misti, Christopher Gramer, Martin Behrndt, Carsten Schmitz, Claire Teng, Eric Chan, Paul Bryan, Alexandra Ni & Bill Cook, Rowena Yee, Nadine Stewart, Christina Spindler, TJ Lee, Lenny Haslinda, Gemma Comabella, Ádám Földes, Jarosław Kamiński, Hilary Lee, Fatoma Alladin, Bernard Schembri, Frank Meng & Ildikó Puskás, Pilvax, Robert Kalman, Alexa Echavez, Andrea Serafini, Nora Amin, Nicholas Reynolds, Mark Verhaagen, Zora Gabrovsek, Tom & Sharon Ormes, Daniel Saul, Lucas Burrows, Florian Kaltenbach, Rocío Huertas Jiménez, Amy Louisa Lau, John Neilan, Tuesday Co-working, Alexander Holland, Katja Locke, Nicolas Grognet, Albatross Bakery, Richard Blaha, Marcell Csókás, Russy family, Maria Caio, Frederic Tissier