Oase exhibition
Group-show participation in the Povvera Projektraum in 2015.
Curated by Eniko Marton, the other invited artists were: Edith Kollath, Chelsea Leventhal, Tobias Löffler and Gyula Sági.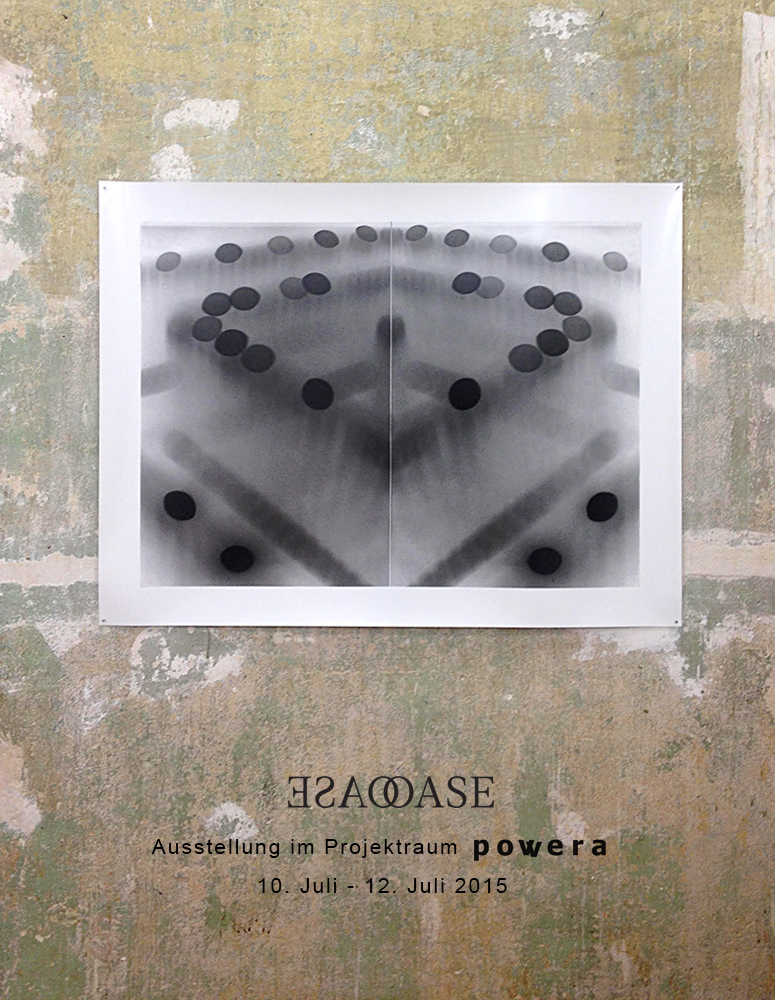 Symmetry is an expression of order and proportionality of individual elements of a whole: we feel the entirety as beautiful and harmonious.
Symmetry as a dualistic structure (our world) is also a universal model of thinking, namely thinking in opposites and poles: light and dark; man and woman; right and left; good and evil; plus and minus; matter and antimatter, just to mention a few examples of polarities. They must always be considered together, because one pole cannot be described without the other, as one side of something symmetrical cannot be understood to the exclusion of other side. A pole cannot be defined for itself, it is a "mutual measure" (symmetros).
An oasis is a place that is defined by its polarity to what surrounds it. It is understood as a desirable spot in the desert, a place of longing, a metaphorical paradise, the opposite of all unspeakable things.
Within what symmetries we are moving today?
Does symmetry provide us with different perspective on the complex structures of everyday life /society?
How do people locate themselves in broken symmetries and asymmetric decay?
Does it inspire a feeling of calm in you, while liberating your spirit?
The striving for development dynamics between symmetry and asymmetry, the negotiation of ratios and proportions in the aesthetic field, as well as questions about their place in our time, span a poetic space: explore these six international artists in the exhibition Symmetry Oasis.
Curated by Enikő Márton, the exhibition in the Project Space povvera exhibits works in various media by Edith Kollath, Chelsea Leventhal, Tobias Löffler, Enikő Márton, Gyula Sági, Csilla Szabó.